This totally snuck up on me, but apparently the BAFTA's are tomorrow. This is really the last significant precursor until the Oscars. My final predictions are: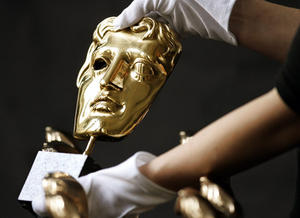 BEST FILM
No Country for Old Men (it'd be shocking for the Brits if Atonement lost here, but honestly, I think it'll go to No Country. Could be wrong.)
BEST BRITISH FILM
Atonement
BEST FIRST FEATURE
Matt Greenhalgh - Control
BEST DIRECTOR
Joel Coen and Ethan Coen - No Country for Old Men
BEST ORIGINAL SCREENPLAY
Juno
BEST ADAPTED SCREENPLAY
Atonement
BEST FILM NOT IN ENGLISH
The Lives of Others (I'm saying this because it has a Best Film nod, but don't be shocked if Diving Bell and the Butterfly takes this)
BEST ANIMATED FILM
Ratatouille (this is almost surely what will happen, but the Brits do love The Simpsons...)
BEST ACTOR
Daniel Day-Lewis - There Will Be Blood
BEST ACTRESS
Marion Cotillard - La Vie en Rose (let's have some fun)
BEST SUPPORTING ACTOR
Javier Bardem - No Country for Old Men
BEST SUPPORTING ACTRESS
Saoirse Ronan - Atonement (because it's Atonement. I guess?)
BEST MUSIC
Atonement
BEST CINEMATOGRAPHY
Atonement
BEST EDITING
No Country for Old Men
BEST PRODUCTION DESIGN
Atonement
BEST COSTUME DESIGN
Atonement
BEST SOUND
La Vie en Rose
BEST VISUAL EFFECTS
The Bourne Ultimatum
BEST MAKEUP AND HAIR
La Vie en Rose
ORANGE RISING STAR AWARD
Shia LaBeouf
Well there we have it. I love the BAFTA's! They always make much more sensible choices than the other awards. Let's hope that this year is no different...